Jun 26, 2009 At the Choose a File screen, browse to and then select your password file, clicking Choose once you have done so. At the next Choose a File screen browse to and then select your dmg file which you would like to crack the password for. The password file will then be read into RAM and the password cracking will commence. Jun 01, 2004  I downloaded a.dmg file and whenever I try to mount it it asks for a password, yet I don't have one nor know where the password is. Is there a way to mount it without the password or is there a program that can remove the password somehow? Thanks in advance. I have created a.dmg file with password. Unfortunately I forgot the password and I my Google searches have not resulted in a way to reset the password of this.dmg file. Tour Start here for a quick overview of the site. Is there any way to crack a password-protected disk image? Ask Question Asked 6 years, 11 months ago. Active 6 years. Mac OS X does have FileVault as a good security option, which uses XTS-AES 128-bit encryption to password-protect your entire hard drive, but this is a drastic measure to take unless you're prone to theft. The Ultimate Guide to Password-Protecting Files & Folders in Mac OS X Yosemite By. Simply follow the first two steps again. After installing DMG Extractor, all you have to do is double-click your DMG file to open it up. You can browse the files right in the DMG Extractor window if you just want to see what's inside the DMG file. If you need to extract the file, click the "Extract" button on the toolbar, and then choose one of the extraction options.
Jun 26, 2009  At the Choose a File screen, browse to and then select your password file, clicking Choose once you have done so. At the next Choose a File screen browse to and then select your dmg file which you would like to crack the password for. The password file will then be read into RAM and the password cracking will commence.
If you are an avid Mac user using a Windows PC, and suddenly find a DMG file in your windows system, you would definitely want to open it up to see what it contains. Though the installation files or compressed files it contains will not be compatible with your windows PC, yet there are some ways you can check out what it withholds. But before proceeding with the ways to open or view a DMG file, it is better if we have a thorough knowledge of what a DMG file exactly is. DMG files are actually Mac OS disk image files. It is very similar to ISO files in windows, or rather a counterpart of ISO files.
The images usually comprise installation files of softwares and operating systems and sometimes, compressed files. Since you are using a windows PC, surely you won't be able to run it on your Window OS, but at least there are ways by which you can have a look at its contents. And that is what we are going to discuss in this article - ways to view the DMG files on Windows 10/7/8.
Way #1: Open DMG Files on Windows with 7-ZIP
7-ZIP is a lightweight freeware which is easily available on the internet market. It not only extracts DMG files but all other of compressed files, such as ZIP, CAB, ISO, RAR, WIM, etc. But we would restrict our discussion here only upto DMG. Read the steps below to know the tool's usage:
Step 1. Download the 7-ZIP program file in any of your working computer and install it.
Step 2. After installation is done, locate the DMG file that you wish to open or view in your directory or desktop, and right-click on it.
Step 3. From the context menu, click on '7-ZIP' which will not appear as a part of your system since installed.
Step 4. From the next sub-menu that follows click on 'Open archive' and your DMG file will be opened and you can view the contents inside.
Cons: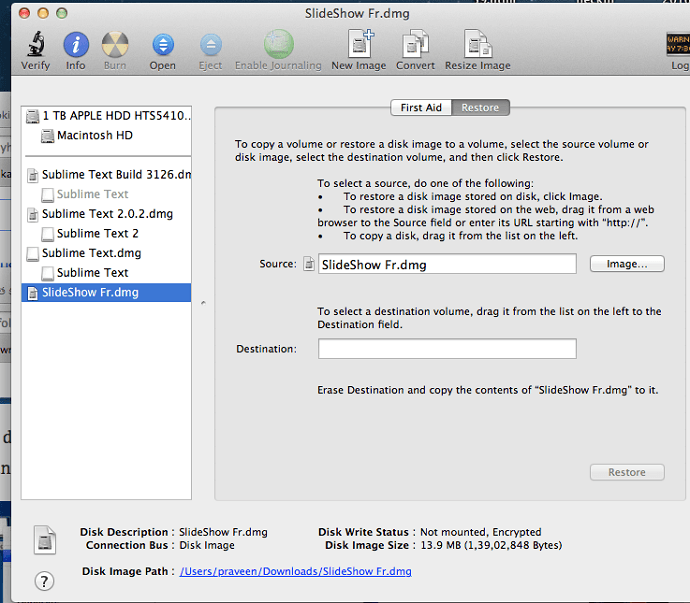 You cannot view or extract files bigger than 4 GB.
You cannot view or extract encrypted files.
You are only allowed to extract 5 DMG files at a time.
Way #2: Open DMG Files with DMG Extractor
DMG Extractor is another professional tool to open and extract .dmg files without first converting them into .iso or .img files. It's interface is very user-friendly and even a beginner can use it without any difficulty. Just go through the steps below to pull off the task:
Step 1. First of all, download the DMG extractor program file from the internet and install it in your personal Windows PC.
Step 2. Run the application with admin rights and in the main UI of the tool's screen, click on 'open' button in the upper menu bar to browse the required DMG file. The file will be loaded into the software's screen.
Step 3. After the file is loaded, you will be displayed all the contents contained within the DMG file.
You cannot extract encrypted files. You cannot extract files bigger than 4 GB.
You can only extract 5 files at a time, which can be a pain if you need to extract an entire DMG file.If you need any of the features on that list, you'll have to purchase the professional version ($9.95).
Cons:
You cannot view or extract files bigger than 4 GB.
You cannot view or extract encrypted files.
You are only allowed to extract 5 DMG files at a time.
Way #3: View DMG files on Windows with PowerISO
PowerISO is yet another very powerful professional tool which can open, burn, extract, create, edit, convert, any kind of disk image files. It can process every kind of image files, be it BIN, DMG, ISO, DAA, etc. Here we would burn the image file into a CD/DVD or USB and then will open it from the disk storage to check out what it contains. But before you head on the tool's usage, better have a look at its specifications to use it in a better way.
Step 1. Get the program file downloaded from the official website and install it in your Windows computer.
Step 2. Launch the utility with admin privileges and then insert a empty Disk (CD/DVD or USB) in your computer.
Step 3. Click on 'Tools' button from the menu bar and then click on 'Burn' option from the drop-down menu.
Step 4. Now the 'DMG Burner' option will be shown in the PowerISO Window's screen.
Step 5. Click on 'Browse' button to fetch the required DMG files from your computer's directory.
How To Open A Password Protected Dmg File
Step 6. Select the burning speed from the dialog box and then finally click on 'Burn' button to start the burning process.
Step 7. Once the image is burnt in your disk, open the disk from 'My computer' and click on the DMG file to view what it contains.
Conclusion:
After going through all the methods mentioned above, you must have realized by now that the first two tools implemented have got several demerits and thus can be not relied upon fully. So in order to have all the facilities with disk images, better stick to way 3 for a guarantee result.
Mar.13 2018 15:17 PM / Posted by Elva Xiao to Windows
Related Articles & Tips
Home
How to Tips
What is DMG File And How to Open It
In computing world, DMG or (Disk Image File) is a file extension that belongs to Mac OS X. DMG file can also be termed as Apple Disk Image. The icon used equivalent to this file is an Internal Hard-drive. Disk Images are generally used worldwide in-order to distribute applications and software across the Internet. DMG file provides some attractive features that allow securing password along with file compression.
These virtual or physical Apple disks can be cloned from one to another. This is one of the powerful features of Mac.
Tip: If you want to open and view DMG files of Apple Mac OS X so, you can try DMG Viewer tool.
Why DMG Files Are Created?
Earlier, Mac applications made use of Resource fork. These are the part of file system on Mac Operating System, which consists of both the structured data and non-structured data. Mac could not transfer these Resource forks over the mixed networks. Hence, the usage of Resource fork dwindled and this was the reason that Apple created disk image formats(DMG). The Resource forks are very important as they contain Meta data regarding the file.
Mounting and Dismounting on Mac OS
It is equivalent to plugging in a removable drive, where E drive is automatically created and while removing one chooses 'Safely Remove Device'. Similarly, you have to eject the Mac drive for both the virtual and physical.
Two Disk Formats supported are:
NDIF
This was previously used as the default format of Mac, also known as New Disk Format. These files generally have an .img file extension.
UDIF
The native disk format of Apple Mac DMG file is UDIF (Universal Disk Image Format) with a file extension of .dmg.
MIME Type of DMG File:
application/x-apple-diskimage.
Supported File Systems
Hierarchical File System (HFS) – This was developed by Apple Inc. for the systems supporting Mac OS. Earlier, these file systems were used in floppy disks and hard disks but later were used to read CD-ROM as well. It is known as Mac OS Standard.
HFS Plus – It was developed after HFS, which is an extension of the same. It is known as Mac OS Extended.
File Allocation Table (FAT) – It is a file system generally compatible with all file systems and helps in exchange of data between systems.
ISO9960 – This is also a file system which was issued by ISO (International Organization for Standard) supporting various OS and helps in exchange of data.
Universal Disk Format –This is a file system usually used to store broadcast media like DVD and optical disk formats.
How to Open DMG Files?
How To Open A Password Protected Dmg Windows 7
In Mac:
When you download a Disk image, all the applications in it must be copied to the Application files, because many of these files will be in read-only format. Running these files inside the drives may produce some erroneous results.
Double clicking the DMG File will open the file and you can view the contents in it. It might be images, documents, programs, etc.
The DMG File consists of an application file. You can simply drag and drop to install them. If there is a possibility of having an installer, you can run these files instead of installing.
Right-click on the File >> "Eject" (click on virtual disk instead of, original file)
Delete the old DMG Files after installing. The reason is old files may take more space when we install new programs.
Resize DMG Files
Right click DMG File >> Click Get Info (View the original size).
Open Disk Utility >>Select Images Tab>Click on Resize>>Select the DMG file to be resized.
Click on Open >>Type the file size to be reduced>>Select Resize>>Done
In Windows:
Originally, DMG files are the default Disk Image file for Mac. Hence, they can be opened only on Mac OS.
Since there are no manual methods available to view the DMG Files in Windows, users can install external third-party software available online on Internet. DMG Viewer is one of the tools from such category.
The software provides you with the following features:
Open DMG File in Windows OS based machine
Read: Corrupt, Password Protected & Encrypted DMG
Recover permanently deleted files from DMG
Search a specific file type in large DMG Format Files
Conclusion
Open Password Protected Docx
Considering the ongoing necessity to view DMG files, we have described a manual process to let the users understand how to open & view DMG files. Else, users can take the help of a reliable third-party tool named as DMG Viewer. It is the best application that helps to read .dmg files in Windows OS. Users can use any approach as per their choice.